Interview with Matthew R Walsh of LOGIC NINE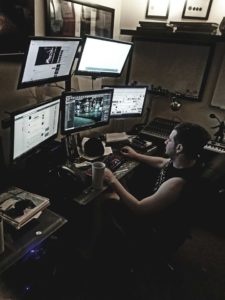 Tell us about yourself
I'm 33 years old, based in Los Angeles, California; my day job is I produce/manage/deploy and support industrial software that runs the majority of the nations scrap yards/recycling centers/landfills.
I've always been a dev. I learned Qbasic when I was 10, moving forward through languages like ASM, Pascal, C. I've been programming professionally since 15. I produced the worlds first 3D roof-cad/roofing design/quoting software and gutter planning software. The next year I dropped out of school and perused my passion of programming. I always wanted to make games, so I made little dumb games out of proprietary engines. I wanted to learn Unreal/Quake engine but at those times it was over $200k to license the engine and that's a lot of money to blow just to fail.
I waited and then once Unreal became free I started playing around. Nothing serious, but then my mom got cancer, I flew to Michigan and moved there with her during her few-months decline and spent my time writing a game (this game) based on what a more powerful me would do in this situation. More is on the website describing this.
This is when I got serious.
Are you a Solo Dev or part of a team?
Solo
How do you keep yourself motivated and inspired working by yourself? Do you chat with other devs etc?
I've always been motivated. In my eyes, there is nothing else to do but be productive. I don't really watch TV or anything except when I'm laying in bed trying to fall asleep. I love code. I love games. My wife has a desk next to mine where we have some drinks and hang out and listen to music. It's a great environment.
I don't talk to other devs.
Tell us about the game you are currently working on
The game I'm currently working on is an open-world role-playing cyberpunk game set in a dystopian Los Angeles in the year 2108.
It's really a cool concept and game, the story has never been done yet in sci-fi, which is rare, and I'm looking forward to unveiling everything. But many story details are available at www.playnothing.com
What inspired you to start this particular project?
I (Matthew Walsh) am the non-fictional basis of Dresden, who like the real life me, is a software engineer who lived a wealthy carefree life. With my wife, and my mother being the center of it (i'm a momma's boy).
My mothers co-workers and "friends" diagnosed her as having "asthma" for years, but a persistent cough always made my wife and I openly voice our opinion that she should get a check up from doctors that "don't live in Flint, Michigan and actually give a f*ck"
My mom and her husband came to visit me in Los Angeles for the first time since I moved in March around my birthday and we had a fantastic time, but about two months later she was admitted to the hospital in which she worked for 23 years, amongst her friends.
There were several days at a time I could not get ahold of her, as she spent a lot of time sleeping in the hospital. My family wasn't giving me answers, so I got the next flight out to Flint, Michigan and showed up at the hospital (basically ready to fight).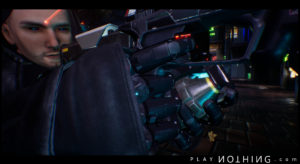 The doctors said she had "pancreatitis"; however, anyone with half a brain and access to the internet could surmise the actual illness was Stage 2 pancreatic cancer. I pushed to have her moved from H*rl*y Hospital to H*nry F*rd Hospital and she was on the next transfer out.
By the time the new hospital had run it's tests (they have to start from ground zero), she was Stage 4.
I flew home, packed some clothes and came back to Michigan, where I lived for the next few months on the hospital grounds, until they notified us "there was nothing they could do". The cancer was actually esophageal, which is rare in white women, especially those who do not smoke. It had spread into the pancreas and beyond, and was not responding to any treatment.
Since we found out, I wanted her moved to a specialist in another state which leads cancer research, like Texas, Illinois or California. As I slowly watched my best friend, my mother, deteriorate and die, I stayed in my head, writing (this story) to escape the frustration of my life, while my mother was moved from the hospital, to hospice in her living room.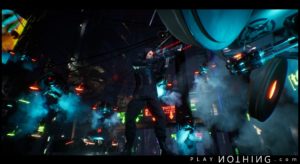 Every night I slept next to her, holding her hand, talking to her about life and apologizing for being such an assh*ole as a kid. We made right all the wrongs between us. Every few hours she would cough blood heavily, sometimes bodily tissue, and it only made my livid frustration for the doctors incompetence grow. I wanted to destroy anyone who failed her. In my head, I imagined what a more powerful me would do, to what lengths he would go, untethered by family, friends and responsibility.
How could people she trusted let her down? Because they're an over-worked, under-paid government backed-corporate entity with no regard for anyone who takes up too much time. Incompetence at it's pinnacle.
In my mind, the hospital formed the idea that became the PXL corporation.
The idea of the NeuroLink was born from my wish that this could have been diagnosed immediately, bypassing doctors incompetence. Computers executing medical parameters against present human variables and coming up with a legitimate conclusion to any medical issue without mistakes.
I literally went crazy. Locked in my head, which was the inspiration for THE NOTHING, the absence of anything tangible, a place where I was stuck, with sleep paralysis and insane whispers and thoughts circling through my mind constantly.
My mother died on the day of my marriage anniversary, not 15 feet from where we were married in the same house years before… 10/11/10. (Binary for the PHP symbol which joins two variables: 00101110)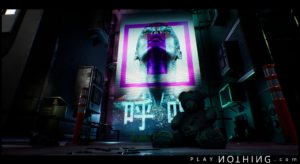 I laid in bed for the next two years watching everything I worked my whole life for disintegrate. Becoming a husk with enough just life to support some basic functionality to still appear human at times.
The inspiration for the character Miss Manufactured – the healing aug engineer is — My wife Britany, who literally brought me back to life.
To keep my mind off the pain I felt, I began learning Unreal Engine. I started making my story into a game where I could play out the situation over and over hoping to scar over the fresh wound.
I soon realized I want to take it farther, so I put an ad out on craigslist, hired the best artist who applied after months of searching… He introduced me to his friend, another fantastic artist and we began working.
Musically speaking, years ago I friend requested my favorite Trance music vocalist, Kathleen Fisher. She accepted, and years went by and we never said a word to each other. Once the game started moving, she clicked like on it. Remembering her husband does music for lots of things, I asked if they would be interested. He immediately e-mailed me and said YES. By the end of the month I had 35 custom tracks to the game. He plans over 100 tracks total. We've since become friends and I finally met Kathleen Fisher; she asked if she could voice a character and we gave her the role of Miss Manufactured (my wife's character). Her voice — it's so perfect. Everything just works.
What challenges have you faced during this project and how have you overcome them? 
I've run into many "newb hiccups"; and rather than fix them, I just scrap the entire project and start over. This is my 5th rewrite/redesign in 1 year. I'm used to that though. I've been coding so long, that I don't really get upset over lost time or lost work because even bad code is an investment into making a better, smoother running machine.
My biggest issue has been social issues. Reading the bad comments on youtube, or reddit. 99% of 100k people were absolutely fantastic. But there have been like 10 or 15 people, who are just miserable animals who either post hateful or disgusting things about my mom dying, or me exploiting her death, or whatever else… and it just takes one of those comments to make me lay in bed for an entire week and call off work. I don't know how to overcome that yet. I'm learning.
She knew what I was doing while she was alive. I showed her. I read to her every night what I was doing and she loved it. I don't have any regrets, but the internet is a harsh place.
What have you learned from this project that you will apply to your next?
Aim high, and keep your hater blockers on.
What was your first gaming system?
PC. DOS.
What is your favourite game? (or games if that's too difficult!) 
Quake 1, Deus Ex Mankind Divided, Ruiner
What is the one piece of advice you would give to other game developers?
Whether you're broke, depressed, miserable, uneducated about game dev… Just do it anyways. Load up the example projects and play around as much as you can. Once you get a ball to knock a cube over, learn how to texture that cube when it gets hit. Then make it explode. Then work on sound. Then either learn modelling or find someone who does. Post an ad on craigslist like I did. Before you know it, you will have everything you ever hoped for: a great team, people wanting to work with you, real stuff happening all around you. It's such a liberating feeling. It's a big, and intense and scary endeavor, but so is looking back and realizing you didn't follow your dreams.
In closing, my favorite quote from a show I loved:
"Let your shortcomings and imperfections fuel you. Let them push you even farther than you thought you could ever go. When you stop striving for perfection you might as well be dead." – Christian Troy, NIP/TUCK
See Matthews's work on Indie Game Launchpad!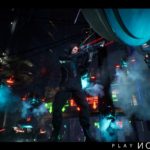 THE NOTHING | Cyberpunk RPG
-
The NOTHING is an open-world cyberpunk role playing game set in a dystopian Los Angeles in the year 2108.