Interview with Domagoj Bulat of Domo Games
Tell us about yourself

I work as an electrical engineer servicing medical diagnostic equipment. I love all aspects of game dev and do it as hobby.
Tell us about your team. How many members? What's your role? How did you meet?
There are 4 of us in the team. I love both programming and art and I started creating small games in engine Stencyl all by myself. Through Stencyl forums, I met Chuck, a programmer who helped me to stand up on my feet. After posting some pixel art on Twitter I met our musician Greg.
The conversation started when he commented that my pixel art house was cool but the door looked crooked. Greg makes voice over, SFX and music in our team and he does not stop there. He managed to convince both our team and our publisher Sedoc LLC that it is in our mutual interest to start cooperation. Like everyone else in our team, he has got a significant impact on our games design and stories, management and spreading the word about our games.
Our artist Theo creates the art from the bottom of his heart with love and his spirit can be felt in his illustrations. He loves digital painting by hand but he went out of his comfort zone and challenged himself to do some pixel art in Aseprite. After just a few weeks he totally smashed the concept and now we have gorgeous pixel houses, trees etc. My main role is game design, pixel art, animation and programming.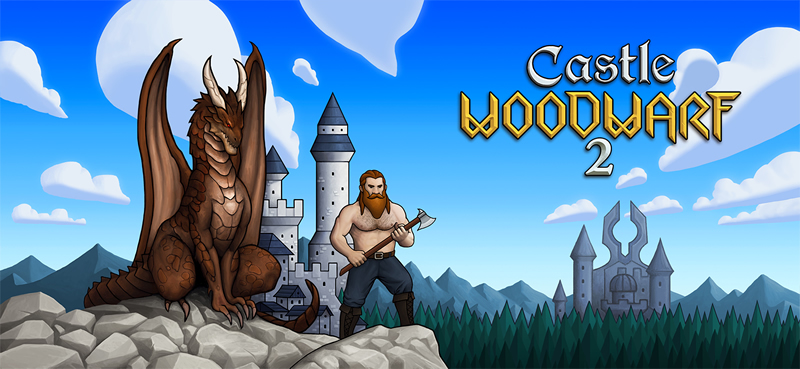 Do you work in the same location or remotely from each other?
Remotely. Discord is our meeting point and we communicate there on a daily basis while Google Drive is where we keep and share all our files.
We do not have any predetermined rules about what and when we do. It is mostly because all of us have day jobs and game dev simply has got to fall to second place.
Tell us about the game you are currently working on 
Castle Woodwarf 2 is a much bigger and more developed sequel to the original dwarvish game. Currently, it is in the polishing phase and it will be available on Steam in June 2019 and after that as mobile and HTML versions.
Woodwarf is a strategy game with a mix of art styles – the action is in pixel art while upgrades, map, and other screens are in hand-painted style.
What inspired you to start this particular project? 
The game evolved from a small learning project without a developed idea of how the game would look like or even which type it will be. I started by creating some random character cutting the trees. Then I introduced a gatherer who would collect the wood and so on. I thought it might be a simple idle game but it outgrew its boundaries and became an upgrading strategy.
What challenges have you faced during this project and how have you overcome them? 
At the time of creation, the game was meant to be much simpler and smaller. It was meant to start as Flash which would not be so good for the market. But luckily for us by the time we were finishing, our game engine Stencyl made publishing to HTML5 possible. Also at the very beginning, we did not consider launching a PC version. So recently we had to make significant changes in the screen art and programming to meet the full HD resolution requirements, including wide screens.
What have you learned from this project that you will apply to your next?
We learned we are much stronger than we suspected. We are capable to see a complex project from the beginning till the end. It is our passion and we love game dev. We love sharing our work with players all around the World are going to keep on making games regardless of their success.
What was your first gaming system?
My first gaming system was Commodore 64. Truly amazing and magical machine.
What is your favourite game? (or games if that's too difficult!)
Star Wars: X-Wing (PC/DOS) 1993, LucasArts
What is the one piece of advice you would give to other game developers?
For new ones – go small. Create a game that you can finish just within two weeks. Never start a game design with a bigger project than that. Do not make prototypes but create a small functional game and launch it.
For experienced ones – make sure to separate clearly your game dev time from the time you spend with your family and friends. Learn how to live passionately in both worlds. People are the only thing important.
See Domagoj's work and other games published by Sedoc LLC on Indie Game Launchpad!