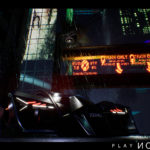 The NOTHING is an open-world cyberpunk role playing game set in a dystopian Los Angeles in the year 2108.
A single corporation, the PXL corporation runs the world, due to their massive economic status as they were the developers of the NeuroLink. A nano-tech device implanted into the brain of every newborn baby, which is capable of direct machine-to-brain interfacing, and instant medical diagnostics. Implantation of the NeuroLink became mandatory in the 2070's.
You play as Dresden, a skilled systems engineer who works for PXL; and lives in a Utopian paradise, isolated from the failing cities of the world. Dresden's mother develops a rare cancer, and he gives his wealth to attempt to save her — which ultimately results in his deportation from the Utopia; sent to live in the decaying Los Angeles district.
Due to his valor and sacrifice, PXL officials offer him a chance to save his mother, free of charge, and come back to the Utopia: infiltrate, observe and report on the "terrorist" groups which have an interest in compromising the secluded Utopian world. Dresden agrees.
He had no idea what he was up against…
But every group knew he was coming, somehow.
As Dresden starts to unravel the truth, he befriends a skilled female aug engineer and ex-PXL employee. Together they hack the NeuroLink system. What they discover — is beyond this world.
Enter THE NOTHING.
WE WILL BE COMING TO KICKSTARTER. I just want to have so much done, that no one will doubt it's completion. Stay in touch below:
http://www.playnothing.com/