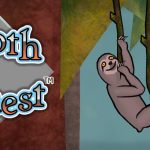 Sloth Quest is a 2D platform game where you climb and swing instead of jump. It's a difficult game with unusual controls that require skill and timing
Features:
* Swing, swim, and grab your way through over 30 levels
* Collect lost treasures and wearable items scattered through the world
* Fight and defeat tough bosses
* Customize your sloth with wearables and complete outfits you discover
Controls
Sloth Quest supports both keyboard and game controller. The game has an unusual control scheme. You control each of the sloth arms with a single key or button. A short tap starts the arm raising and a press-and-hold will grab anything grabbable (outlined black) in reach. Two more keys control the swing of the legs left and right.
History
Sloth Quest was conceived around 2013. In 2014, a short version of the game was green lit by Valve under the old Steam Greenlight program. That game was never published for various reasons. In 2019 we decided to remake the game. We kept the basic controls, but expanded the game's scope, duration and mechanics of the sloth.
Sloth Quest was released on Steam for Windows on June 18, 2020.