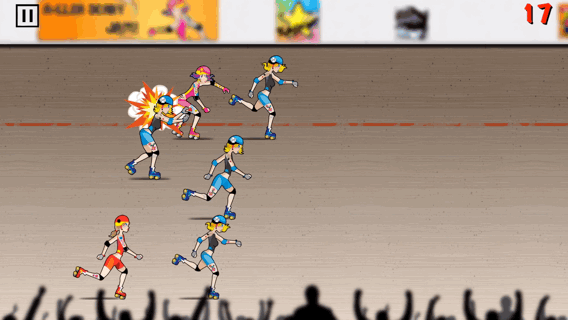 Roller Derby Dash is a, you guessed it, Roller Derby themed side-scrolling racing game that mixes in a bit of strategy as you try to figure out how to score points by passing your opponents and using your teammates to move forwards to victory. Watch out for the other jammer, don't let her lap you!
Features:
– Unique gameplay based on Roller Derby
– Play as a lead jammer for your team to score points
– Unlike other games, you can control your teammates for strategic advantage
– Block your opponents, perform hip checks and knock 'em down
– Watch out for the other team's jammer, once she passes you, the game is over!
– Just like in Roller Derby, you play both offense, trying to score points, and defense, stopping the other jammer, at the same time.
– Your opponents get increasingly challenging the longer you play.
Take a gander at a short gameplay trailer here: https://youtu.be/O3rZv8bXC3g