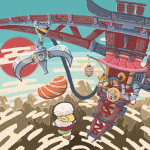 Rising Sushi is a fast paced arcade about building an endless tower of giant sushi pieces grabbing and dropping them with a claw crane in the right sequence or shooting your sushi cannon.
To increase your score and don't get a game over you must take and memorize orders from the big dragon, and then stack them properly. At first you'll get basic combinations of few pieces, but later in the game the number and mix of pieces from each order gets bigger and more complicated.
Stack pieces perfectly, don't miss and when you get a streak of three, you'll activate the fever mode, changing the claw for a sushi cannon with which pieces fall non-stop at a frantic rate. It doesn't matter if you miss while you're shooting the cannon, but is the best chance to score extra points.
Solve the various challenges in form of achievements to multiply the experience you gain in each play and with that your chef level increase faster. Get the best scores to level up and stay on top of the chefs leaderboard, or achieve the best service in a single game that no one could beat in the leaderboards.
The game is handmade animated, with a pixel art finish and inspired by classic woodblock printings from the 17th century.