I spent the 30th and 31st or March at EGX Rezzed – a gaming expo in London which focuses a lot on indie games and developers. It was a great show this year and I was very privileged to meet and chat with a lot of great developers and get hands on with their games. I also got to hang out with some great people such as @jupiter_hadley, @IbzyStudios, @jujuadams and many more.
I thought I would mention a few of the games I played and developers I spoke to so you can check them out for yourselves and get a taste of some of the awesome work that is heading you way.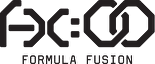 by R8 Games
If you loved WipeOut on the PSX back in the day, then you will love Formula Fusion! With art & design by Ian Anderson of TDR and members of the development team who worked on Wipeout previously, Formula Fusion is certainly inspired by the classic. It has the 'back to basics' feel of WipeOut along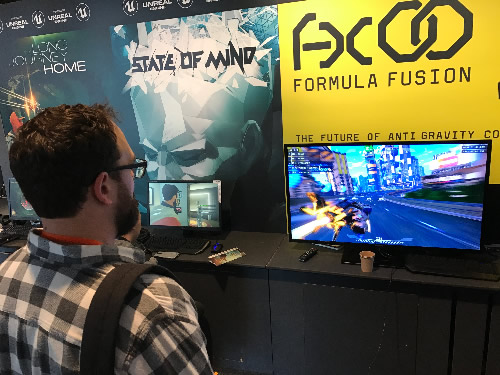 with the fluidness and speed but without the punishing difficulty which makes it man altogether more accessible game. Start in the 'Garage' to customise your ships load-out and then launch into an intense
anti-gravity race, either single player or online (which is where I can totally see this game coming into it's own).
Currently on Steam Early Access and aiming for a Q2 launch on PC, the 12 man dev team are then hoping to bring the game to PS4 and Xbox one by the end of the year.

 by Playwood Project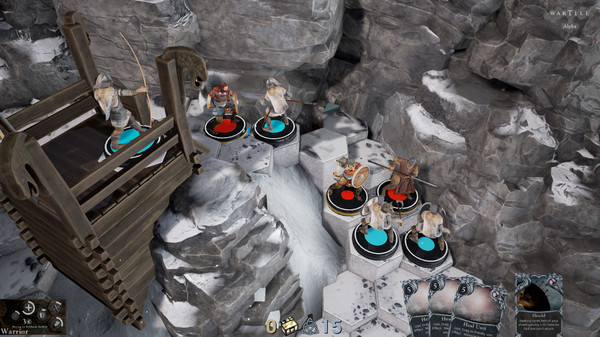 Tabletop gaming comes to life in WarTile. Visually beautiful, this Real Time Strategy game brings class customisation and norse mythology together and throws away the turn based element but introduces cooldowns to keep the pace of action.
Currently available for the PC through Steam Early Access, look out for a full release in 6-7 months time.

 by Adrian Lazar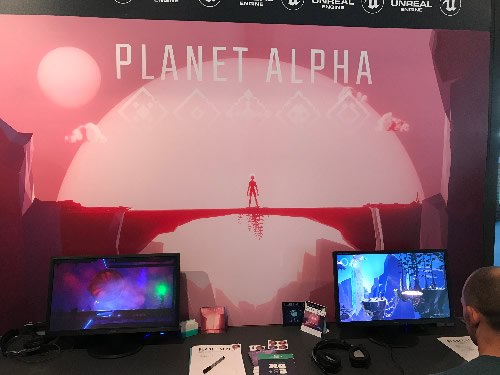 Currently 3 Years into development, I played a mechanics prototype of Planet Alpha, a Sci-Fi, atmospheric platformer hoping to be released on PC & PS4 in March 2018.
A planet exploration game where you can control night and day to solve puzzles, this game looks beautiful and has a fantastic depth of field that really brings you into the environment.
What started as a 1 man part-time project, has now evolved into a 3 person dev team. Best of luck with the continued work on the project, I am looking forward to spending more time with this one.

by Bolverk Games, published by Playstack
Supporting both the VIVE and the Oculus Rift, Dick Wilde is a VR shooter where you must survive an onslaught of creatures! The action was well paced and it was fun and frantic at times as the number of attackers increased. The game does well to immerse you in the well crafted cartoon environment. Definitely worth picking up if you own a headset. It is available on Steam now.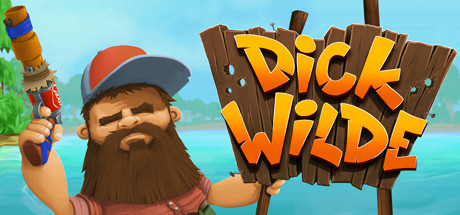 I had an interesting chat with the developers on their choice to publish using an 3rd party publisher for Dick Wilde as opposed to self publishing like they did for their previous title, Kittypocalypse. 'We learned that our talents lay with the development of the game rather than in the marketing so this time round we have chosen Playstack to help us with the launch' said Joachim Brüel Gerber, art director at Bolverk Games. 'We spoke with Playstack and decided they would be a good match for us'.
Using publishers is something that has been a topic of conversation with the many devs I speak to on more than one occasion since I started the site so i will do my best to try and follow up and report on the results.

by Plukit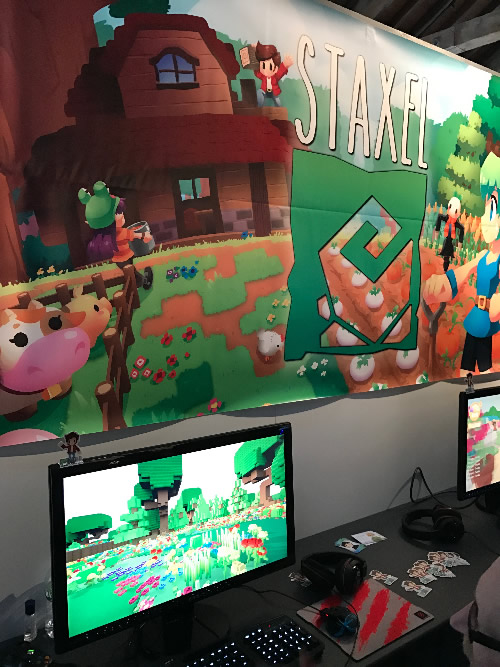 What happens when you cross Harvest Moon, Animal crossing and Minecraft? You get Staxel!
Staxel is a village/farming sim where you can interact with your friends in a 3D multiplayer environment to meet the villagers, tend to your animals, build your tomato empire and much more. A lot of care has gone into the design of the characters and environment and it is a joy to explore the village and accept quests from the villagers which, if you choose to, can add a nice direction to this open world RPG.
Currently 3 years in development, the 2 man team has now grown to 9 and Staxel is launching late 2017 on the PC.
There is currently an alpha available at playstaxel.com
The Leftfield collection
The Leftfield collection is a selection of indie games with a slightly different approach. There were some fantastic games on show this year and I recommend you head over to this page on the Rezzed site to look at them all in more detail, they are all deserving of your time. I'll mention 4 below.
A place for the unwilling by MadeInSpain Games

Beautiful hand drawn visuals pull you in to this adventure game which was inspired by Marjora's Mask. Set in an open world, you play 'a day at a time' so time management comes in to play as you explore the rich narrative which drives this game.

 Muddle Dash by SlamPunks

A mad, 4 player race to reach the goal while holding on to a present! This was great fun and addictive. I played with 3 friends and it was getting quite competitive by the end!

 

Flotsam by Pajama Llama Games

Set in the middle of the ocean in a flooded world, you begin in a small boat surrounded by debris. You scavenge to build a floating village and are soon joined by castaways who join you in your quest for survival. A fun and attractive town-builder with plenty to give the more time you play.

 Colour City by FINIFUGU && Friends

There were a couple of 'games' on display by Semone (Jai) Bunnag of FINNIFUGU && friends. I use the term 'games' lightly as they are really more art experiences. Colour City is a geo-location based art project where players add to a growing canvas to create a tapestry which covers the map.

The experience I was totally drawn into was called Tacenda which is set on a train. Between stops passengers will tell you stories sourced from the BBC's listening project. You learn about the life of a stranger in a brief encounter before they arrive at their destination.  It is a fascinating project which I highly recommend you check out.
National Film & Television School
There is some great work coming from the students of the National Film & Television School and I was very pleased to meet and speak with some of the devs who were showing their games. Again, I thoroughly recommend you take the time to look at all of the games on show as I will just be highlighting a couple today.
Melancholia by PoPo Studios

Monument Valley meets the Crow! Melancholia is an isometric puzzle game by  Claudio Pollina. It's intricate and beautifully crafted gothic styling and deep narrative draws you in to the world as you solve the visual and audio puzzles to move through the story. Launching on iOS in late 2017, this is one to look out for.

 

Night Bizarre by Laura Dodds

Inspired by the Tarot card readers in the night markets of South East Asia, Night Bizarre follows the character Srey as she learns the art of Tarot reading and predicting the future of the clients that visit her stall. So much work has gone in to the details of this game…the cards alone are worth clicking on each and every one to look at the art and meanings attached. I hope this game see's a release, it deserves one.