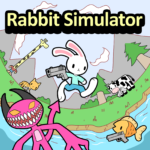 Experience heart-pumping action and intense bullet-hell gameplay in Rabbit Simulator, the ultimate action-adventure game. With challenging enemies and a variety of exciting weapons and power progression, you'll feel the adrenaline rush as you blast and slash your way through each level.
Featuring 1 HP and no perma-death, Rabbit Simulator keeps the action fast-paced and thrilling. And with guns resetting every level, you'll have to master your skills and strategy to progress through the game.
But Rabbit Simulator isn't just about combat – you'll also encounter a variety of puzzles and mini-games that will challenge your mind and keep you engaged.
With diverse environments and unique challenges in every level you will be immersed in the experience.
So get ready for the ultimate action game and try Rabbit Simulator today!
Features
• 1 HP
• No perma-death
• Guns reset every level
• Power progression
• Challenging enemies
Accessibility Features
– Key bindings
– Casual mode
– Playable on all resolutions
Premise
Enter a world where every step forward is a step into darkness. Experience a haunting narrative that unfolds through a series of striking cutscenes, each one telling a story of loss, despair, and desperation. With little dialogue, the stark imagery and evocative music will draw you deeper into the story, immersing you in a world where things only seem to get worse.