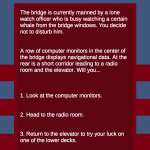 Welcome to Project Agent and its world of espionage and adventure! A modern text adventure for your Android smartphone.
Be the main actor in this suspenseful interactive spy thriller as you seek to escape your captors from their secret base. You are a secret agent, of the type that usually excels during every mission, through bravery and intelligence, not to mention your pretty good looks. But alas, your last mission ended in peril, for you were captured and must now attempt a daring escape!
A text adventure for the modern age. Choose your own path to success, or to failure, and at the same time keep an eye on the alert level of the enemy base, because it's game over if it is too high! I enjoy combining classical game components with new, modern elements, and this game is no exception. My old friend Niroshan de Silva gave the game a fitting musical accompaniment. You can find his works on his SoundCloud (https://soundcloud.com/nirosh-de-silva/)!
– 6 different story paths and endings!
– Your choices and actions can directly affect the enemy base's alert level!
– Groovy soundtrack!