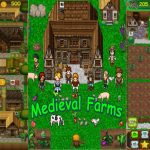 Grow many different crops, raise livestock, and make production goods. Currently 5 farm Acres to purchase with additional Town, Market, and Farm House scenes to expand your play. We are on a track to release new content monthly with several new farms, maps, and adventures to come throughout 2020.
Free to play and the best part is all ads are optional, with rewards if you do choose to view them.

For those that like a quick start, purchase Stars or Starter packs from the in game Premium Shop to speed your progress.

Casual Play and Pixel Art graphics combined with town quests and gossip, random items to find, and constant progression will have you coming back for more.