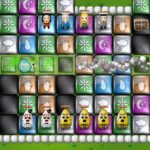 Lead your heroes through the battles in forests and deserts and let them conquer the magical world. Match at least 3 stones of the same kind and reinforce your heroes and help them to defeat dangerous monsters. Capture the elements of earth, air, water and fire to become stronger.

The game has 2 rounds:
– Round 1 – Match 3 or more stones of the same kind
– Round 2 – Move heroes, collect potions, attack monsters

There are 15 regions with 96 levels each. Having completed all 96 levels and collecting all the pieces of puzzle, you may try to solve a puzzle. If you succeed, the region is yours and you may try your luck in the neighboring regions.