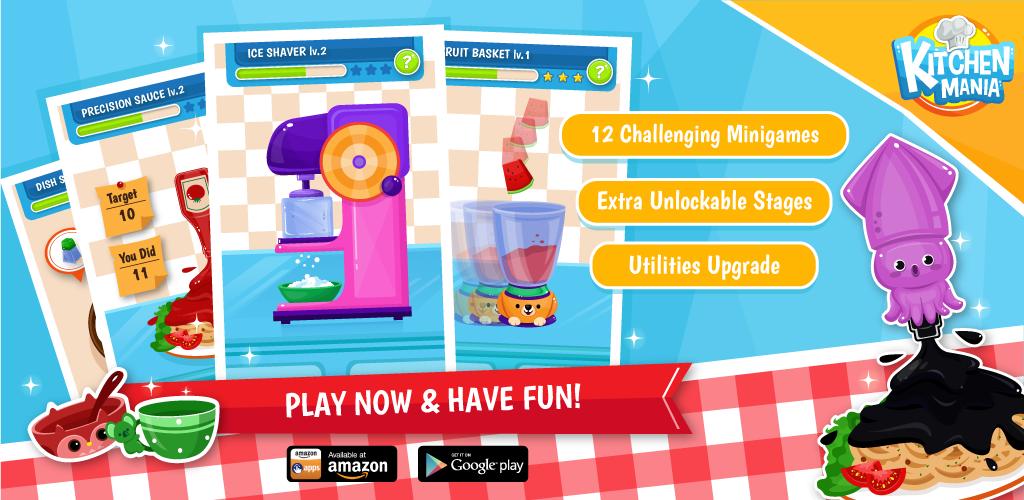 Ever getting bored in your casual time?
Craving for challenging games?
Want to experience becoming a chef?
We provide you a way to kill your boredom!
We provide you a challenging game while you may experience becoming a chef yourself!
We provide you Kitchen Mania!
Kitchen Mania offers fun in the kitchen like never before.
★ Play 12 unique kitchen mini games
★ Get more challenged by 5 difficulty settings for each game
★ Getting in a pinch? Use 4 helpful power ups!
★ Complete as many tasks as you can and collect more chef hats
★ Compete with friends to see who is the better chef
★ Still want more? Unlock 4 more mini games, and still more to come!
★ The more you play, the more powerful your kitchen utilities will be
MINI GAMES:
– Bottle Pop – Pull the bottle top
– Water Measurement – Stop the water at the target range
– Dish Seasoning – Select the wanted spices simultaneously
– Selective Soup – Don't let the rubbish enter the soup
– Fruit Basket – Shoot the fruit into the blender
– Cheese Grater – Grate the cheese
– Magic Sponge – Clean the pan
– Precision Ketchup – Drag with precision
– Food Shelves – Categorize each food
– Meatball Adventure – Avoid spices by guiding the meatball
– Plate Tower – Balance the tower
– Flour Sifting – Sift the flour
– (NEW) Burger Stack – Memorize and recreate the burger
– (NEW) Beverage Rush – Specify the beverage as soon as possible
– (NEW) Ice Shaver – Shave the ice cube
– (NEW) Gelato Rain – Catch the falling gelato
– More mini games coming soon…
Hey mini game lovers, Kitchen Mania is the one for you! 😀
Kitchen Mania is packed with appealing graphics, cute sound effects and challenging gameplay.
So, what are you waiting for?
The road to becoming a chef is waiting for you.
Let's play Kitchen Mania!