Following the recent release of their new game HYPER BEAM, I took some time today to speak with Nik Mihaylov of Calgary based studio, Rinikulous Games.
Tell us a bit about Rinikulous Games
Steven and I are both creative professionals. We've been working together professionally creating multiple experiential applications for global brands and I knew that he was not only interested in game dev but also has done a couple of iOS games before. Being part of the design industry you cannot ignore gaming. Game development and design has always been very interesting to us from a creative perspective. For example, I grew up with Doom, Duke Nukem, Quake and Hexen. Playing those games has always fascinated me — not only from a visual perspective but also how the overall gameplay subtleties made you feel.
Our mission is simple – create meaningful interactive experiences.
So, after a while, we decided to join forces (design and development) and take a stab at making interactive experiences (games). As a result, Rinikulous Games Corp. was born.
So game dev is still a part time endeavour for you guys. What are your current day jobs?
I am still at Critical Mass (www.criticalmass.com) where I am a Senior Creative while Steven is a Product Strategist at Versett (versett.com), a product design and engineering studio.
Who does what within Rinikulous?
Steven is primarily responsible for development and programming, while I deal with art direction, design, user flows, promotions and production. However, when it comes to concepting we both share that role.
What are your aspirations as a studio?
Our mission is simple – create meaningful interactive experiences.
Thats a fine mission! so that leads us nicely onto HYPER BEAM then, how long was it in development for?
Hyper Beam took us about 6 months to design and develop. We have our day jobs so we were trying to squeeze some time in between to work on it.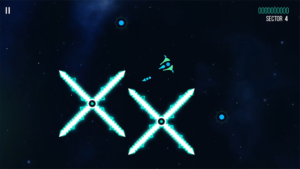 What gave you the idea to start developing HYPER BEAM?
After we finished the development of Lonely Sun, Steven and I decided to resurrect an old game prototype, called Quantum. After several weeks of brainstorming, creating multiple art direction styles, content flows and gameplay scenarios, we knew we had something special and quite different. We started by designing the interface, coming up unique enemy designs and behaviors, figuring out how each beam would look and behave… Once we established the overall tone and visual identify of the game, we went into production.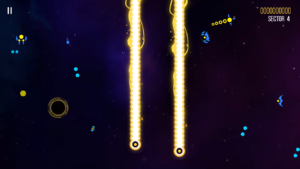 It has a very minimal art style, was that intentional from the outset?
I am a strong advocate for minimalism when it comes to design whether it's UI or overall UX. Today's users are quite used to intuitive designs. The minimal art direction of Hyper Beam was indeed intentional as we didn't want to insult the player's intelligence by being super explanatory with everything.
Our design philosophy is simple – minimal UI and UX interactions, and focus on gameplay. We aimed for an intuitive design and content flow to make it easy for the player to navigate through all sections of the game without ever doubting the meaning of a single interaction.
As far as gameplay is concerned, we made sure that, one, nothing clutters the player's view – only necessary interface elements are included to provide the player with information vital to his/her survival/success, and two, the game's difficulty ramps up with every sector reached – by sector 5, the player's planning, dodging and destroying skills are really tested. Every design element is derived more or less from the circle shape – enemies, players and hyper modes.
HYPER BEAM's twin-stick controls, the constraints of (limited) screen space, complimentary music and sound effects, minimal art direction, and enemy and beam behaviors all create an unique experience that puts the player in a position to embrace the inevitable nature of survival.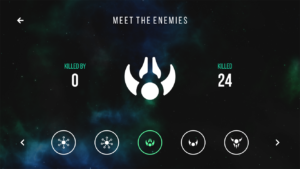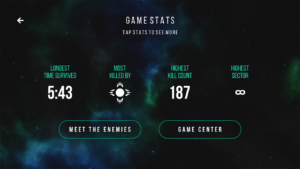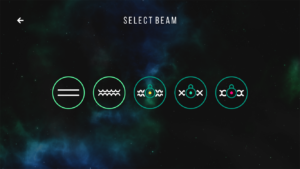 Unlike other games in its category, HYPER BEAM doesn't employ unnecessary visual effects to convey its purpose. The game is aware of its visual language, limitations, and what it's gameplay mechanics are trying to accomplish –survive by dodging, destroying and getting hyper.
Did you draw any inspiration from your previous release (Lonely Sun) in any aspects of the development?
The only inspiration we drew from Lonely Sun was the fact that we have to believe in what we were creating. As you may have noticed, Hyper Beam is quite different from Lonely Sun. We aimed for an arcade feel with a different control/gameplay mechanic.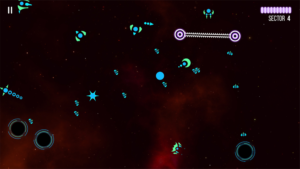 I'm sure anyone who has played your games will agree that you enjoy making challenging games, what games do you enjoy yourselves?
You're absolutely right! We can't seem to make easy games. I strongly believe that games no matter what the platform or genre is have to pose a challenge the player. Personally, I'm a PC and FPS fan. Like I said earlier, growing up with Duke Nukem, Quake and Doom made me appreciate the complexity of those games and how they force you to adapt and respond quicker. Recently, I've been playing A LOT of Doom (2016) – what an unbelievable experience.
So you still have a passion of AAA titles. Do you play many indie games? If so, what draws you to a game to try it?
Correct. As a PC gamer I have a lot of passion for AAA titles. I do try to play indie games and support my fellow devs. What draws me into a game is a mix of several different factors – is it a game I'm familiar with, have I played an earlier release of it, have I talked to the dev team, design, and finally is it a theme/genre that I enjoy.
Check out HYPER BEAM today and follow Nik Mihaylov and Steve Ritchie as well as Rinikulous Games for all of the latest information on their work.