Cut and Run
Embark on the breath-taking endless scenic of Night Streets over the dazzling moon, As you try to Run and evade the gas guzzlers. Reflexes and Skills are put to the test as you accelerate through the lifeless streets.
Icarus, an A.I is trapped in your game, Delve into a Futuristic Apologue, as it dynamically Changes based on your response.
Swipe to turn and Jump, Collect the Resource which will help in the development of skills and leads to diverse game mechanics.
Let's get busy by getting absor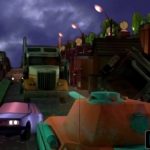 bed in the monumental journey.