This Fellowship Rogue-lite Adventure is all about planning your way out before the floor turns into lava. To succeed you'll have to find the perfect balance of fighting to level up, exploring to find secret passageways and running away to survive another floor. We were inspired by other games like the original Legend of Zelda, Spelunky, and Crypt of the Necrodancer.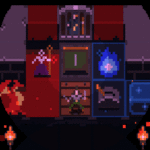 Create your own path by blowing up every wall in your way.
Creatively strike down foes by knocking them back and earn combo kills.
Swap between nine unique heroes while adventuring, each have their own skills and playstyles.
Discover secret passageways filled with enchanted weapons and mountains of gold.
Strategically plan out your path before the floor crumbles into lava.
Explore procedurally generated caverns with deadly traps, surprising enemy encounters and much more.
Complete extra side quests and challenges to unlock new areas of the cavern.
Follow Untold Tales on Twitter and IndieDB for daily updates.
https://twitter.com/UntoldTalesSt