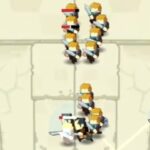 Fantasy Legion is an army vs army war game where your choice of troops and their placement matters more than just brute force. Deploy archers, swordsmans, ninjas and many more into battle. Furthermore, how about deploying war machines which can always change the balance of a battle. Most importantly, don't forget to deploy heroes to greatly aid you in battles.
Collect and upgrades dozens of cards featuring historical characters and troops such as Arthur the Lionheart, Leonardo Davinci and the English longbowmen. Tweak and create a deadly combination of army to bulldoze your enemies. Devise your own signature strategy from hundreds of different army combination to match your play style.
Do you favor long range assassins or hand-to-hand tanks? It is all up to you. But, we know that you will enjoy watching your powerful legion crush the enemy!