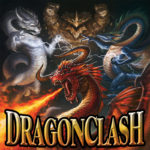 DragonClash is an exciting single-player card game of strategic dragon combat set in a war-torn, modern-day world. Each match offers a rich, RPG-lite experience, where you'll hatch a dragon, raise and develop it, and battle a ruthless rival out to steal your dragon egg – all in about 30-minutes!
Features
Multiple Playable Decks – Hatch and train a dragon using a variety of breeds and play styles.
Dynamic Battles – Master deadly attacks and powerful gifts as you train your dragon from hatchling to elder wyrm.
Ruthless Competition – Defeat rivals to challenge powerful nemesis dragons, each a unique boss encounter.
Expandable Lairs – Improve your dragon lairs, each with 12 levels of features to unlock.
Milestones – Over 100 in-game badges to earn.
The World of DragonClash
After suffering centuries of war, pollution, and neglect, the dying spirit of Earth, known as Gaia, has called out to her last defenders in a desperate plea for life. Those defenders are dragons, each born from the destruction wrought by the human race and bound to the elemental weaves of Gaia. A savage red dragon may rise from nuclear fire, a shifty blue from the oil soaked oceans, a mad silver from the smog-filled skies, and a hungry brown dragon from the poisoned ground of a toxic waste dump.
It was Gaia's hope that the dragons would be better than humanity and help reshape the world in elemental harmony, but the violence that manifested the dragons also gave rise to an entity known as Oblivion. Called "the Great Father" by the dragons, his influence tainted the dragons at birth, driving them mad with a lust for war.
Now the dragons not only battle humanity, but themselves. Ruthlessly hunting for the dragon eggs to satiate their endless hunger for power, the dragons wage an eternal struggle for dominance and the very soul of Earth. Gaia has called out to the last guardians. She has called out to you. Become the dragon and conquer all that oppose you to become the chosen "Last Kin", and reshape the fate of Earth in your claw.