Interview with Lisa of True Illusion Software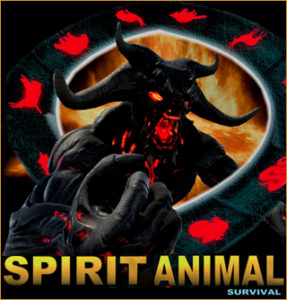 Tell us about yourself
True Illusion Software is a small indie team based in Ontario Canada. However, we have and continue to work with others internationally. As individuals, we share many years of experience and a deep passion for the video game industry. We are an experienced self-funded indie team and Spirit Animal Survival (SAS) is our second title, our team has supported other indie projects some of which are still NDA.
Tell us about your team. How many members? Whats your role? How did you meet?
Our core team for SAS consists primarily of 2 developers. Freelancers have been hired throughout the game's development to provide a helping hand when needed. My specific role is being the 3D artist. Job duties include the original creation of animation and graphics, using both illustration and computer programs. I am also responsible for all in-game audio and sound effects and marketing. I hold a Bachelor's degree in Game Art and Design as well as a degree in Business Management.
Tell us about how you collaborate remotely? What tools do you use? Do you enforce a meeting schedule or work to a project management standard?
All our hired freelancers have been located remotely. At times this can be challenging due to different time zones. However, we like to welcome international talent into our projects. We feel this adds a unique twist to our games. Which in return the player feels. It's a great feeling to collaborate with great international talent.
We meet on a daily bases several times. Thanks to the many broadcasting tools that are available. We are able to meet, discuss and work on our projects as if we were in the same office. This all runs very smoothly and quite well.
Tell us about the game you are currently working on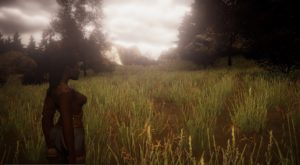 SAS is a survival with a deep story about the good in everybody fighting the evil to restore peace and harmony for mankind and all living animals.
The game is a hybrid of RPG and Survival. We wanted to provide a light story for the player's while leaving enough available to create and explore your own world and experience. In nearly all cultures, myths and legends can serve as cautionary tales, keeping one foot in practical reality and the other in the realm of the supernatural. The ancient lore of the indigenous peoples of North America is as varied and far-reaching as the continent itself. That's why SAS is loosely versed in native lore. Each craftable item is not just given a random name. The research was done to uncover what various Native American tribes called their structures, food, clothing, weapons etc. players will recognize this incorporated into the game. So while you are playing you can also learn of the native meanings behind several items. We uncovered a few of the most terrifying Native American Legends and incorporated them into the game.
What inspired you to start this particular project?
The idea for SpiritAnimal Survival came about our love and passion for animals. And we brought in elements into our survival that have never been seen before. The main goal is to defeat evil not to kill innocent animals. You are only punished when you start killing animals for no reason. You're not punished if you are defending yourself while being attacked or when you are starving. The punishment is an indicator of you not having the spirit to carry the Spirit Animal abilities. Someone who is a Spirit Animal barrier is to protect life not take it. This doesn't count for all the monster's roaming the world. Those you have to kill to prevent them from further roaming the world.
We implemented a Karma System. How this works is you begin each game with 100% SPIRIT KARMA everytime you kill someone without a reason, meaning your health is 10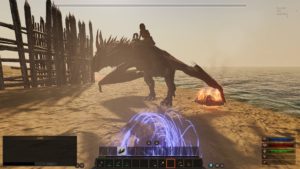 0% food and your food stat is above 70% you get damage and 10
% of your SPIRIT KARMA is deducted every time. When you reach 0% you will not be able to morph into any Spirit Animal and ride or fly any epic mount as long as your game session lasts. The next time you play, you will once again have 100% SPIRIT KARMA so you can fly again Epic mounts and Spirit Animals.
What challenges have you faced during this project and how have you overcome them? 
One of the challenges we face on a daily bases is not having more manpower. Our days are always filled with lists of tasks that need completion. It's so easy to submerge yourself in your project. So much so that you, at times lose that work/life balance. Open communication amongst the team has assisted us in prioritizing tasks.
What have you learned from this project that you will apply to your next?
I have learned that you need to be flexible with your plans. Set your goals, stay focused and work towards them. But be ready to make adjustments wherever necessary. We worked very closely with an amazing community, who have supported us on this development journey. We remain grateful and humble for their assistance with testing and providing feedback. Being gamers ourselves, we will always reach out to fellow gamers to participate in any of the games we develop. It is after all our goal to create a great gaming experience for all of us.
What was your first gaming system?
PlayStation and X-Box Consoles
What is your favourite game? (or games if that's too difficult!)
World of Warcraft, Far Cry, Alma, GTA series and my number one favorite game is of course SAS 😉
What is the one piece of advice you would give to other game developers?
Never give up…Never surrender. Keep the scope small.
See Lisa's work on Indie Game Launchpad!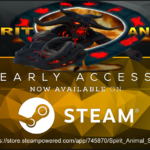 SPIRIT ANIMAL SURVIVAL
-
Spirit Animal Survival is a massive Open World Multiplayer with a unique story. It has a very complex game mechanic where the player is able not only to build and craft but also has the opportunity to morph into different animal forms during the game play and dangerous monster encounters. You are surrounded by a living and breathing world faced with many challenges ahead be it on the main land, ocean or one of the many instances such as dungeons and caves and parallel worlds. All this needs balancing and player input to release and expand as a finished product. Early Access ensures that we can partner up with you all enabling us to help make this game an amazing experience. Currently included are the following features: 5 different environments totaling approximately 36 square kilometers 100 different Animal and Creature Types Over 200 Craft and Building Items Taming/Mating of specific Animals Morphing into Spirit Animals Extensive Character Creation system for Male and Female 6 Tiers of starting clothes sets Different Mountable Animals and Boats 4 Boss Instances Volumetric Weather System with Day and Night cycles