Interview with Steve Gabry of Portable Moose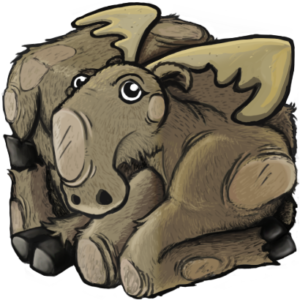 Tell us about yourself
I'm based out of Pittsburgh, PA, USA. I started Portable
Moose in early 2015 as a solo endeavor / side project. I created the first episode of Sally Face in my free time, while both working a full time job and working with my other dev team, Wither Studios (that I co-founded in 2010, after college). Then, in fall of 2016, I ran a crowdfunding campaign for Sally Face that allowed me to go full time on the project. Since then, I have released episodes two and three of Sally Face and am currently in pre-production for the fourth episode.
Are you a Solo Dev or part of a team?
Solo
How do you keep yourself motivated and inspired working by yourself? Do you chat with other devs etc?
I don't usually have issues with staying motivated. The work itself is highly motivating for me because I love game development. The process of creating and seeing your creation come to life is extremely fulfilling. Though the fans of Sally Face have also been motivating; just seeing their excitement, fan art, cosplays, etc. It's something really special and humbling to have impacted people all over the world.
Tell us about the game you are currently working on
Sally Face is a dark, episodic adventure game. A bizarre journey following the boy with a prosthetic face and a tragic past. Players must unravel a deeply sinister mystery that grows darker as the game progresses.
What inspired you to start this particular project?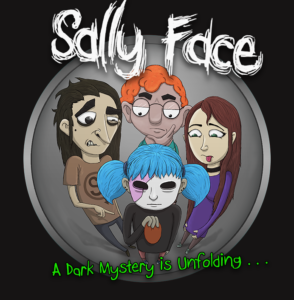 The idea of Sally Face was originally for an internet cartoon I wanted to make, back in 2007. I couldn't get a committed team to work on that project, so it sat in my mind for a few years. It's inspired by 90's Nicktoons and growing up in the 90's in general, along with a love for all things dark and twisted. The whole game is sort of rough around the edges, as part of its style; with wiggly line art, misshapen characters and imperfect music. It adds to the feeling of uneasiness or that something is "off".
What challenges have you faced during this project and how have you overcome them? 
Most of the challenges I faced during this project have been in my personal life. Overcoming tragedy and deep depression to continue with development. In the end, development actually helped me to overcome those things. It gave me something to keep my mind occupied, something to focus my energy on.
If anyone wants to know more about those struggles and the general history of Sally Face development, I wrote a big blog post about it here.
What have you learned from this project that you will apply to your next?
Generally I've gotten more comfortable with the toolsets I use, so that'll help a lot with the next project. As a non-programmer there have been some limitations, so I may also take time in-between projects to start learning a bit of that. I probably also won't do sprite animations again, for future projects, because they take so much time. Another thing I learned is that interacting with your fans is important. They appreciate it a lot, it helps to foster the community and it can be insightful. I find it pretty enjoyable and encouraging to talk with the fans whenever I can.
What was your first gaming system?
NES, when I was 7! Though I had played with Atari before that, the NES was the first system I owned and played with extensively.
What is your favourite game? (or games if that's too difficult!) 
The Zelda series will always have a special place in my heart. Some other favorites are the Witcher 3, The Last of Us, Resident Evil 4, Heavy Rain, Eternal Darkness…
What is the one piece of advice you would give to other game developers?
Just start on something, finish it and then release it. It's the best way to learn and grow better at your craft.
See Steve's work on Indie Game Launchpad!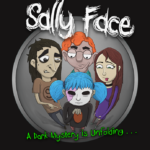 Sally Face
-
Delve into a dark adventure following the boy with a prosthetic face and a tragic past. Unravel the sinister mysteries of Sally's world to find the truth that lies hidden beneath the shadows.