Greetings adventurer, welcome to our world!
I summoned you in our dimension to help us fight a terrible enemy. Since a long ago our lands have been threatened by a dark legion of undead soldiers and you will have to defeat them!
Unfortunately, our budget was cut down… You'll have to START this adventure WITH NOTHING! You know, this summoning things got a bit out of hand… and giving everyone a weapon it's expensive!
But no more talk… Get going! Long is the road to the cursed forest where the king of the undead hides.
Go… And come back as the winner… Or don't come back at all!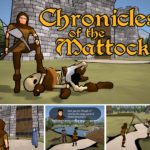 Game made in 72h for Ludum Dare 45: "Start with nothing"