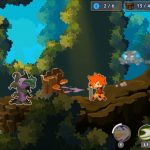 Breaking Gates is an RPG platformer in a fantastic and animated world. Be the new adventurer who will defeat the unknown force that threatens the kingdom of Kirian by creating several mysterious portals and crystals with immense magical power.

Have a new experience that rescues classic elements of action and adventure games while you explore an open map, collect items, create and unlock a vast array of weapons, equipment and loots to defeat the countless challenging creatures and bosses that await you in this adventure !

★ Game features ★

🔍 – Explore maps
Search 100% of all maps in the greatest metroidvania style. Secret paths and treasures can be hidden anywhere.

⚔ – Frantic 2D action
Smash enemies with various combos using your special abilities. Raise the enemy and make an air combo! Use dash-cancel to combine all your skills and make a devastating combo! ! Move quickly, jump, attack and dodge! Don't let your guard down or you'll be attacked!

⚔ – Boss-Battle
Memorize your movements and retaliate with your reflexes and best attacks, any minimal error is fatal!

🎮 – GamePad support
Use various skills and super crazy combos from a pure hack and slash of the first. You can also use a gamepad for this!

🎵 – Original soundtrack
Do you like a soundtrack? Breaking Gates has an original composition, all the songs were made to leave the atmosphere of the game epic and exciting!

🎲 – Choose your way to evolve
Adventure and RPG. Level up and build your attribute. Collect various materials and craft powerful equipment.