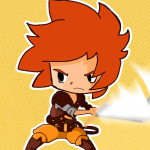 Breaking Gates is the ultimate 2D action RPG platformer game with worlds to explore, equipment to craft and epic bosses to defeat!
Awards Won:
🏆 Best Mobile Game in SBGames 2019
🏆 Game XP 2019 Indie Game Participant
Game Features
❰ Level Up and Upgrade Your Hero ❱
Explore the world and defeat annoying Panpakus and their pals to gain experience. Level up and improve your hero as you like it to be. Be strong and agile enough to beat the epic bosses!

❰ Master 8 Special Skills ❱
Learn new skills as you progress in the game. Unleash each skill at the right time to make devastating combos and it'll help you in different ways under different situations.

❰ Collect Rare Materials ❱
More than 50 different materials that you can collect to be used to craft your equipment.

❰ Craft Your Mighty Equipment ❱
Over 100 unique equipment to craft and discover with different attributes bonuses. Unlock legendary weapons to fight those tough level bosses!

❰ Vibrant, Colorful and Cartoony Artwork ❱
The world of Breaking Gates has been designed with love. It is colorful, lively and easy to the eyes to enjoy.

❰ Full Gamepad Support ❱
You can now play our game with full gamepad support for a smoother control especially when you need to rely on your reflexes and reactions!
… and more!
What is Breaking Gates?
Breaking Gates is a 2D Action Platformer RPG game in a fantastic and animated world. It is developed by fans of classic games of the genre such as Castlevania, Medroid and Mega Men X .

Breaking Gates combines dynamic gameplay and creates a new experience as you explore the map. Collect items, create and unlock a vast set of weapons, equipment and loots to defeat countless challenging creatures and bosses that await you in this adventure!