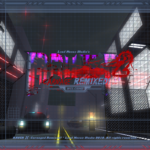 "RAVER 2: Carnage Remixed!" takes a darker, more intense approach to the bloodshed as SGT.Luna-837 now frantically battles his way through the bloodied, mutant infested streets of Retropolia in an effort to finish what Dr. Chambers and Cyclone started.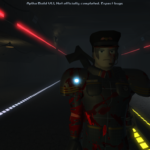 Upon collecting Neiko from Nexus Peak, Lilian manages to implement some repairs and updates to the Sergeant's HUD to aid in his wave of vengeance. As the Lucilium Outbreak firmly tightens its infected grip and swiftly cripples Retropolia to its core; The fights become more intense, your flashlight runs out of power, the situation becomes more dire, and hope seems to be nothing more than a pipe dream…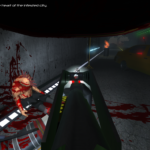 To some folks, there's only one way out… These poor lost souls may be collected by the Sergeant, granting him an HP Boost as payment for setting them free.
More mutants, tighter alleys, enhanced graphics and various new mechanics all come together to bring yet another blood-splattered fragfest.
This demo may contain some small bugs! o.o