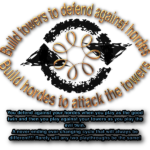 Nemesis Evil Twin Defense is a Tower Defense game with a novel twist and new features!
Set in a fantasy world period were zombies, monsters, aliens, evil robots, and more have taken up arms to defeat your defences!
General
Plays like other Tower Defense games.
Once you have finished the classical Tower Defense Game you get to play as your Evil Twin against yourself.
You play as the attacker and you get to research and upgrade your units and bosses to attack the defenders.
Can you win against yourself?
Afterwards, it is an endless cycle of playing defense to stop your previous attacks.
Boss Levels
Every tenth level will be a special boss battle in which the boss will make an appearance to destroy your defenses.
After each boss battle, you will obtain a special item that can be equipped to either a unit or a building.
Afte the first boss is defeated you play a minigame with the bosses.
The minigame determines the playing field you will use for the next 10 levels and the final boss battle of that stage.
Tileset examples: