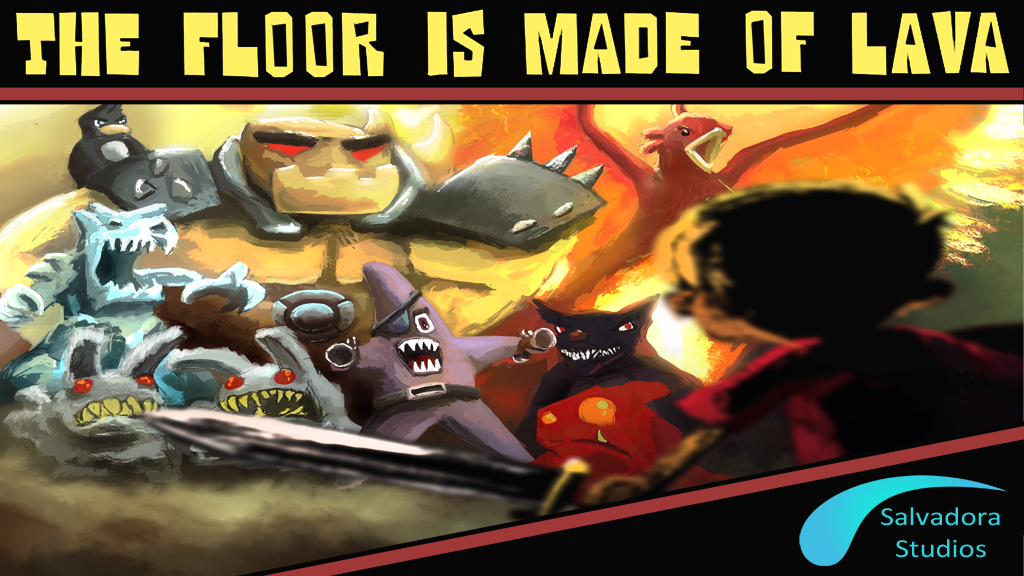 In The Floor Is Made of Lava, Jimmy must use his imagination against itself in order to save his brother, or else lose him to the darkness.
As Jimmy ventures through the worlds of his mind's creation, he'll need to solve puzzles, battle enemies, and challenge bosses, each one guarding a valuable piece of equipment to make Jimmy more powerful.
Gaining this equipment will also open up alternate paths and secrets to explore in previous levels (which may yield their own rewards).
With imagination as both an enemy and an ally, it's up to you to figure out the best ways to use yours.
With six different worlds and over sixty levels to explore, there's a wide variety of enemies to encounter. How you deal with them, though, is up to you! For many of them, you'll need to be careful, dodge, and/or counter. And sometimes you'll just want to throw an ice bomb at them and run on by (particularly if you're the speed runner type). Each enemy has strengths and weaknesses that you'll need to figure out and exploit in order to truly master the game.
Lava's four difficulty levels will also change up the enemies' spawning, routine, and aggressiveness to make your run easier or harder. Whether you want a Lego-games style of difficulty, or a challenge like Dark Souls, it's up to you.
Lava's bosses will be big, powerful, and/or intimidating. They're guardians of important relics, after all. They all have unique battles that will require you to think about your tactics.
For example, as the first main boss, Jimmy will face the King Dustbunny with no equipment available to him. And if jumping on his head isn't feasible, then there must be another way to defeat him. But what?
Some bosses are simply too powerful for Jimmy to take head-on, even when he's fully equipped. But if you use your head, you'll emerge victorious.
In addition to being a test of skills, there's also a reward for defeating them in a certain way. Some of them will require you to come back after becoming stronger. But we won't tell you those secrets. You'll have to figure it out for yourself! (Or, you know, use a wiki or walkthrough.)