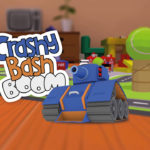 The aim of Crashy Bash Boom is simple. There's no rules, no points to be scored, no storyline to keep up with. Just start the game up and click on the big play button. Drag your finger around on the screen and Pop Pop will follow your every touch. There's a button to fire the cannon, and that's it – child's play at it's best.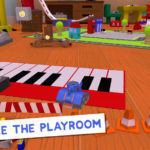 Explore the playroom and look out for: 
– dominoes that topple over at a simple tap
– a medieval toy set complete with a building block castle and catapult
– toy cars that try to avoid being smashed up by the toy tank
– a musical keyboard that plays when you travel over it
– and a diver who needs your help to get down from his toppling tower.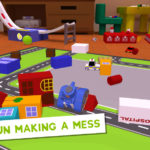 Having fun sometimes involves making a mess. However, few people like tidying up so with one click of a button, it's all done! With a simple press of the reset button, watch as all the blocks and toys restore themselves to their original position, ready to play again.

Crashy Bash Boom is suitable for kids aged between 3 and 9 but big kids (c'mon parents, we know you like a sneaky go when the kids aren't around) are also encouraged to have a drive around the playroom.