11th Dream Game is hardcore and fast-paced third person shooter. It includes both skirmish maps and campaign aimed at fast runners and harcore difficulty enthusiasts. It is going to be the game that you can try to beat while you render your video, waiting for the meeting or for a reply from your friend.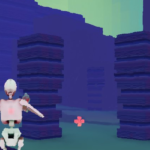 To bring 90s to your screen, we are going through rather bizarre development flow using our own custom shader-less engine. Absence of accessible technology supports our imagination, breaking visuals and also drives us to create new approaches to Quake-like fps genre.
If you are interested, please follow us on our twitter @11thDream_Game or subscribe to our youtube channel Blue Pulsar Games. Best place to hear from us regularly!