What can be better after a stressful day to spend 10 – 15 minutes on a simple and relaxing thing, killing evil demons? Red Algorithm is a perfect game to do so!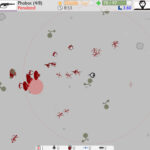 It's a free top-down shooter that is available on Steam with only one rule: survive as long you can. Even 10 minutes can a challenge for a beginner, but the best players are featured on the online leaderboard.
You pick a weapon (make sure your level is sufficient enough to use it, don't use high-level weapon too early!), and start shooting demons that appear from spawners. New spawners are created every minute, and stronger monsters will come out, so be ready. Eventually, you will get a new level and choose one of 90 perks, each of which is unique. Also, you can find bonuses (more damage, more speed, etc.) that will work for a short time, weapon upgrades (only 1 per weapon), and consumables like grenades, turrets, barricades, and drones.
You need a hero do to the job right, and here you have 6 of them. 3 are free and 3 are premium, unlocked with DLCs, but they aren't that much stronger.
Some of the things in the game can be confusing, that is why there is the official website with a detailed manual on everything:
If you master the casual game and survived like 30 minutes, it's not over! There is also a hard mode, and plenty of achievements to get!
Good luck!