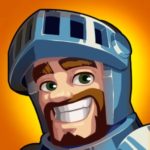 Welcome to Knights and Glory, a place to show your strategy skills, claim your victory among millions of people and much, much more.

Collect and upgrade dozens of cards featuring a series of historical generals and advisors like Arthur the Lionheart or Leonardo Da Vinci, as well as signature troops from medieval Europe and Asia, like The Knight Templar and Samurai. 

Build an army to plunder your enemy treasure and create strong defense lines to protect your own treasure. Join and form an alliance to share cards and fight for bigger rewards.

Take your army to victory!
FEATURES:
– Earn chest to get rewards, collect new powerful cards and upgrade the existing ones.
– Build a ultimate army deck to defeat your opponents.
– Make your way through multipe arena to become the best.
– Take down enemy army and win Crowns to exchange Crown Chest.
– Defend your caravan from enemy to secure your chest.
– Fight throughout campaign to face Mighty Boss and get worthy rewards.
– Build an alliance to share card and join many aliance events.
– Friendly battle and special events.
– Shape your skills at Traning area.