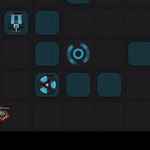 A roguelike tower defense game with a dash of deckbuilding
Survive fifty waves without losing your core. Choose a reward, update your build, survive the next wave, repeat. Highly replayable through permadeath, randomization and challenging difficulty levels. Just one more wave, just one more run!
Aside from additional walls to build your maze, you will get to choose up to seven towers and abilities per run. Once you have a tower or ability, you will start rolling upgrades for it in future rewards, which come in three rarities: common, uncommon and rare.
And to top it all off you can get core modules as rewards which shake things up by granting global bonuses, more rewards to choose from or by completely changing gameplay mechanics!
Loose yourself in the addictive loop of reward, build, battle, repeat
Enjoy hundreds of hours of challenging gameplay
Play in short sessions of under an hour or binge for hours on end
Blissfully despair at the many challenging difficulty levels
Unlock dozens of quirky and elusive achievements
Share downloadable infographics about your runs