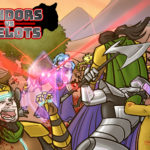 In Condors Vs Ocelots, you will play a soldier in one of the factions that have been at war with each other for hundreds of years. The Ocelots, or the Condors. Build up your army and utilize incredible abilities which are subject to alterations thanks to the unique "mutagens" and end this war once and for all. Climb the ranks of your army to access more powerful abilities as well as increase your army's might.

Features:

-Completely customizable main character
-Over 50 unique abilities
-Over 50 Mutagens to create endless changes to the abilities
-2 unique campaigns
-11 differnet types of weapons, all with their own unique range and scaling.