The best way to get a sense of what </reality> will be like is to try out the pre-alpha demo! The demo is available for Windows, Mac and Linux, and includes chapter 1 (of 10 chapters total). You may leave us feedback on the demo here: demo feedback survey.
Supernovas blaze in the night sky and major natural disasters are commonplace, but the gaming world is abuzz over a revolutionary virtual reality console. The Penta, developed by InterMense founder Jacob Lessard, promises a neural connection more "real" than reality itself. But what does it truly mean for something to be real?
When VR nerd Lilya Martel arrives at InterMense as a beta tester, she expects to spend the weekend battling her social anxiety in exchange for the opportunity to enter Vitalia, the flagship Penta simulation. But between the physical side-effects of the Penta, suspicious explanations from the developers, and the odd and unbelievably intelligent inhabitants of Vitalia, clearly all is not as it seems at InterMense. Ben Evers, another beta tester, claims that Vitalia is the world in which he belongs – permanently. When Ben's life is threatened, Lilya sees that she has become involved in something much riskier and more eye-opening than she realized.
As Lilya, Ben, and Jacob's fates intertwine, they must make some of the hardest decisions of their lives, and confront their own beliefs and perceptions of the nature of existence.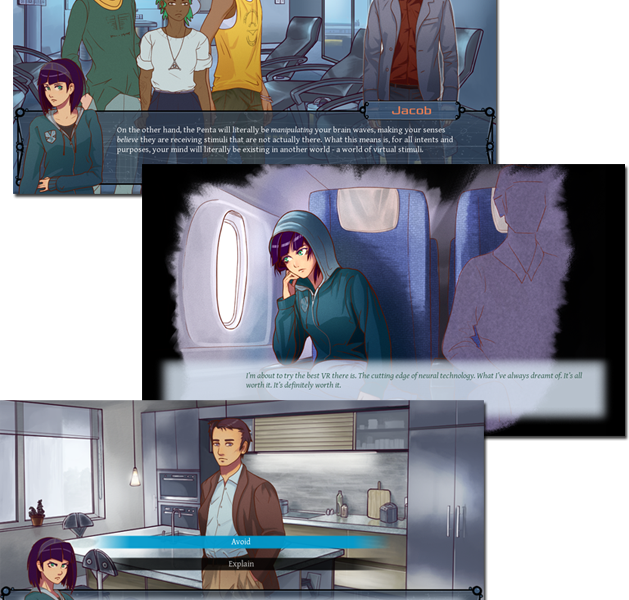 Features
A Thought-Provoking Narrative – with several mind-bending twists and two perspective characters, the story is both philosophically ambitious and deeply personal – over 90,000 words.
Choices That Matter – a heavily branching story line makes the game re-playable. Your decisions have major consequences – ranging from shifting a character's attitude, to placing them on a different story branch, to re-directing the outcome of the entire game.
Expressive Character Art and Visuals – 14 characters (each with various poses and expressions), 12+ background scenes, 17+ CGs/special illustrations, 15+ ending panels.

Character and Relationship-Building – rich character development, affected by your choices, and with opportunities for both romantic and non-romantic relationship-building. Romance is optional, and may be pursued from either Lilya or Jacob's perspective.

Original Music and Sound Design – by the talented composer Chase Bethea.