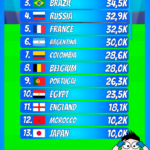 Have fun playing World Football Rush and get your favorite team to the top next to other players. Choose as a favorite a team and play for him. You can choose between the 32 teams. Real users from all over the world add points for their favorite team. Compete against other countries by the top of the classification. Take them to football stardom. Show that your team is the greatest. Also, you can get the highest rank of the classifications of each platform.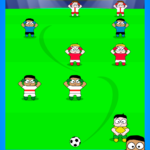 World Football Rush key features include:
– Leaderboard by teams globally and users by platform.
– Compete against other countries. Measure your strength and those of your team with the rest of the teams.
– Game type Rush, where every second increases the difficulty.
– Earn points for your favorite team, get it to the Top.
– Dribble defenders and goalkeepers, and score goals.
– Fun defenders and goalkeepers of each team.
– Music and sounds to encourage you to win like goals, faults or fans cheering.
– Easy to play, free and without purchases. For all ages.
– Control with a single finger, a Tap game.
– Daily rewards, add extra points by playing every day.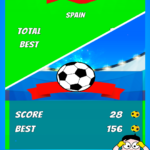 If you are a soccer lover and you love Tap games this will delight you. Now … enjoy the game … you just need to choose your favorite soccer team, play and show your skills. Add points game by game. Get the ultimate goal, be the number 1 and have fun! Keep in mind that this game is made for the world … but do not worry, once past, you will be able to return to score points with new season.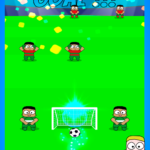 If you like the game share it with your friends and reach the goals together.