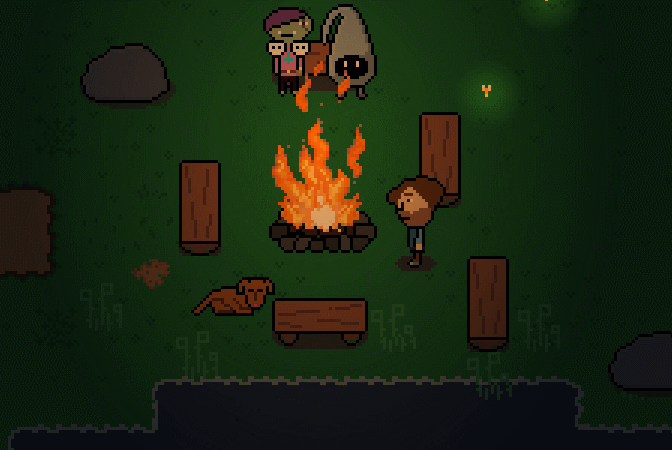 It's Village Monsters! It's a life-sim game taking gameplay inspiration from the likes of Animal Crossing and Shenmue, with visual and tonal inspirations from the Mother series.
Village Monsters is set inside the world of an abandoned video game. Over time, the monsters that once served as enemies in a generic fantasy RPG grew tired of all the waiting around, and eventually decided to abandon the whole 'bad guy' thing entirely.
They've thrown away their axes and fireball spells and now live a peaceful life in a sleepy little village in the 'country'.
You are a player booting up the game for the first time in decades, finding yourself as the sole human living among this village of (mostly) affable monsters.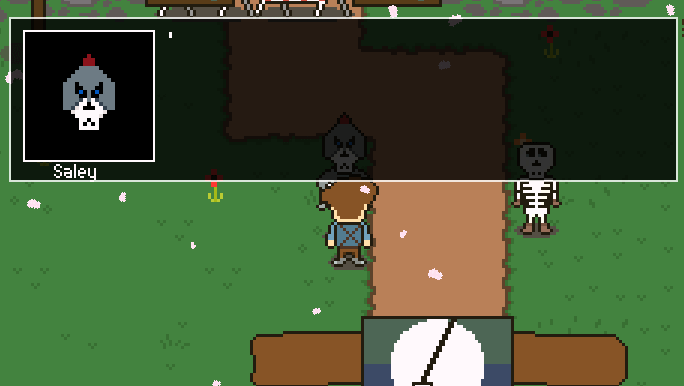 Features
Here's an incomplete list of things you can do in Village Monsters:
Purchase, furnish, and upgrade your very own house. Hang up some new wallpaper! Plant a garden! Sit atop a golden throne you found in the woods!
Pick up a new hobby, like treasure hunting, cooking, critter catching, or fishing. Donate your findings and creations to the Historical Society of Monsters
Meet a boatload of rambunctious and whimsical villagers with their own personalities, schedules, and problems to solve
Experience total immersion thanks to a robust day/night cycle, seasonal changes, dynamic weather, and a packed calendar full of events and holidays
Explore a bizarre digital world that's been transformed by its abandonment
Bring back the treasures from your expeditions to decorate your home and village
Unravel a unique story through dialog, environments, descriptions, and other esoteric means
Enjoy the deep satisfaction of dog ownership
Discover a world brimming with lore where every area, villager, and item has context and background
Solve mysterious and other quests, and enjoy rewards that can upgrade your house and village
Complete a massive compendium full of collectibles and secrets