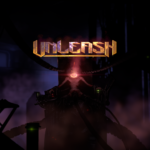 Unleash is about building rows of towers and spawning monsters to battle your adversaries. The more hordes of beasts you release upon your enemies, the better the income you'll gain. Coordinate spawns and constructions properly to enhance their combined potential. Evolve and upgrade your forces at the right time to gain an edge over your enemy, both in offense and defense. Experience intense competitive action and find out what kind of tactician you are. Outsmart your opponent by unleashing a vast selection of monsters and towers on the battlefield.
Features:
Discover the unique traits and abilities of all the 20 monsters the game currently offers. Each monster has 4 upgrade levels.
Set up your defenses using 13 currently available towers and 3 additional wall types. Each tower has 3 upgrade levels.
Invite up to 7 friends to play Unleash together online. There's no better feeling than proving to your friends that you are the best tactician ever.
Multiple game modes, including Line Tower Wars and Tower Defense.
Challenge Unleash' powerful AI, both in single- and multiplayer matches.
Deep and powerful tactics and strategies at your disposal.
Find out your ranking within the game's Scoreboards.