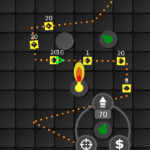 * NO ADS
* 5 levels for FREE, unlock full game for all 25 levels and more to come.
* 4 different towers, GUN, LASER, FIRE & SLOW with upgrades in 4 step.
* 8 different enemies with its own speed & health. (so far)
* Collect COINS to UPGRADE your towers REACH, FIRE RATE & DAMAGE.
There is no auto aim so you need to do it by yourself WHAAAAAT!!! YES no idle gaming here.