The Mystery Of Woolley Mountain is an otherworldly adventure for PC, MAC, Steam and Nintendo Switch, featuring five renegade audio scientists in their quest to rid Woolley Mountain of an evil witch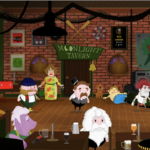 f you loved The Secret Of Monkey Island, Day of the Tentacle, DiscWorld and Space Quest then continue reading my friend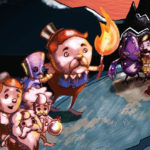 Colourful world: The Mystery Of Woolley Mountain's world is a fantastical sprawling universe, where beasts, witches, automatons, ropemen and other strange and wonderful beings exist. Set in a surreal fantastical world where a group of renegade time travelling audio scientists are trying to save a town of children from a malevolent witch on the mysterious island of Woolley Mountain.
​
VanDamme Laudenkleer received word of the witches actions and set off alone to stop the her. Our protagonist, Garland Vanderbilt, upon returning from shore leave, quickly discovered that VanDamme had gone solo and must now try to find and convince the rest of the crew to set sail for Woolley Mountain to save him, free the kidnapped children and put a stop to the evil witch.
Family content and all ages humour: No swearing, the word 'Darn' may appear.
Unique cartoon 2D Graphics: Adventure Time meets the Simpsons, a different look and feel to the other P&C games out there (P&C stands for Point and click, I just thought of that acronym – copyright pending…..)
​
Fantastical story: The five scientists travel in their amazing time-traversing Crystal Submarine from island to island, starting out on a small dock and ending up on the dangerous island of Woolley mountain to find and destroy the evil witch.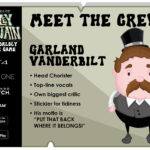 In The Mystery Of Woolley Mountain you can play different characters throughout the game and interact with almost anything in the world:
Talk and have conversations with strange folk
Examine all that you see around you
Pick up, use and combine objects
With this exploration and investigation you will solve an array of puzzles in your quest.
Do you dare enter the world of The Helmholtz Resonators?