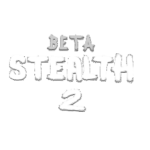 STEALTH 2 is an ultra-violent action-platformer with stealth-like elements. It's the sequel to STEALTH, a small game that was made in less than 8 hours.
STEALTH 2 has been in development for a year, and I've worked on it for over 600 hours at this point. It's the most polished game I've made so far, and I can't come up with a good way of describing it.
It has a very particular artstyle. It's pixel art, but it's mostly in black and white. The only colour is pure red, mostly used for blood and enemies' weakpoints. It's violence is very over the top, and extremely satisfying. The levels have been described as being built like a puzzle, where you have to figure out which route to take and who to kill in what order.
The game runs at 60 FPS and has full controller support with keybinding for both keyboards and controllers.