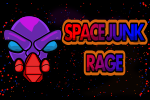 Welcome to the ultimate rage game Space Junk Rage. You play as the cool bad-ass space pirate named "Klats". Klats is always cruising the galactic highways of space in search for adventure and duckets. One day while rolling around in space, the called came in explaining about a profitable venture.
HQ explained to Klats, that a space trucker by the name of Bill lost all of his shipment cargo while traveling through the Smokula-9 Nebula. Bill did not know that inside his cargo, he was carrying some precious rare stones called "jewel junk". These stone possess the secrete to eternal life and are high valuable throughout space.
Klats filled with the thought of adventure, he races off to the area where the stones are located at. There only one problem…. The area is filled with cargo crates floating around everywhere. One crash into them and it's game over bro.
VIDEO LINKS