Run on the bank is a unique 2D arcade style shoot'em up with platforming elements. You will duck, dodge and knock out your foes with a zany arsenal inspired by toys. The titular character of Run on the Bank – Ramblington Babblington, a wealthy eccentric villainous billionaire, who is never short of enemies. From cork pop-guns, to exploding rubber chickens or even toy tanks, Babblington will use his arsenal of recalled toys he invented to get back his vast wealth that was lost due to Babblington's own incompetence. Babblington will fight the down trodden to super heroes, and super villains as well as the wealthy and wacky elite. Currently two worlds are available, with more worlds and updates coming soon!
Road hazards!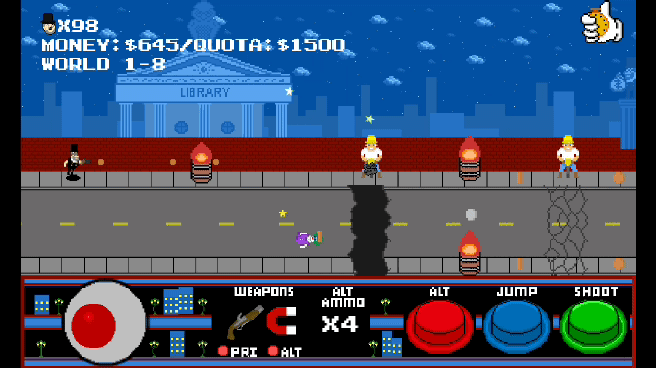 Follow that train!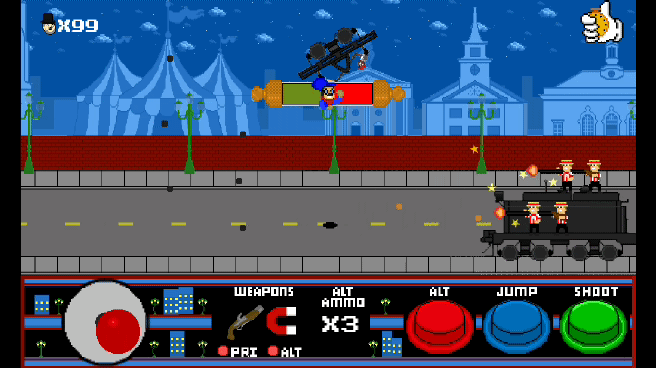 Showdown!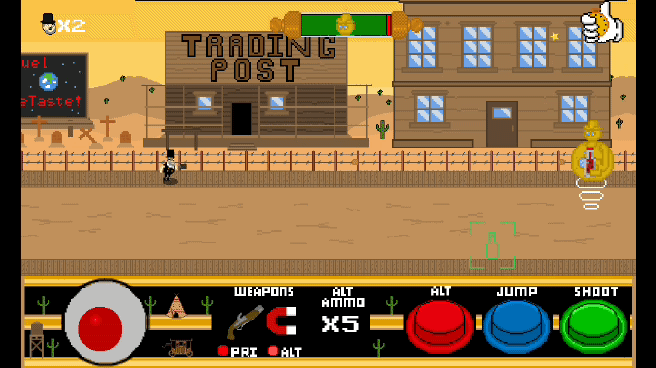 Features!
Different unique weapons from cork guns to boxing glove bazookas, exploding rubber chickens, bowling balls, and spritzer bottles. 8 different worlds from the city to the moon and beyond filled with a variety of foes standing between you and your money. Run on the Bank uses a control layout with the style of an old arcade cabinet with joystick, and arcade style buttons.
About Us!
Reject Force Entertainment is a independent game developer duo that started in 2015. We not only love playing game we love making them. Russell  Davis is the man behind the costume and programmer for reject force entertainment. Joshua Reidland is a programmer forced by cork gun to create the art for Reject Force Entertainment.