Pocket Soccer 2018 is a funny and simple soccer game.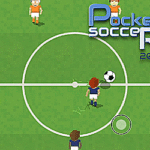 Main features are:
Fast and not boring matches.

Only one minute time gameplay.

Two game modes, single match or tournament.

16 teams full tournament with final match and 3° & 4° place.

Other teams matches simulations.

An animated graph displays tournament status.

Direct elimination matches with eventually knockouts.

Final podium for glorify your litle champions.
The game look:
Minimal graphic design.

Customizable teams uniforms colors.

Customizable teams names.

Customizable play field color.

Skin and hair colors are random.

Funny special effects.

Great sound effects with stadium choirs.
The game phasis:
Tre main game phasis: Attack, Shoot, Defence.

In game powerups.

Powerups needs to be unlocked and activated before the match start.

Powerups can be activated only one time.

If you listen to the coach you can retrieve further powerups.

How to play:
Very simple control system with a single tap.

Zig Zag style attack running.

You can shoot only when you are in penalty area.

Your shoot will go next the arrow behind your opponent goalkeeper.

During defence, your (two line) players will move in opposite directions.

Your goalkeeper will move accordingly to your defence players.