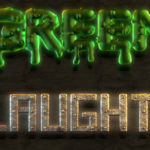 One night, an hacker discovered something that would change his life forever:
The world is ruled by an alien race. These aliens are known as The Reptilians.
The Reptlians can change their shape and become identycal to humans, but thanks to this Hacker we still have a chance to survive.
The hacker cannot fight these monsters alone, he is just a computer guy after all…
So, he finally finds someone that can do the dirty job for him.
His name is Ned Skinner, he is an EX Navy seals dishonorably discharged by the army due to the
Reptilian's interference.
Now, pick up your tomahawk, load your gun and fight hordes of mutant aliens to save the world!