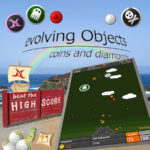 evolving Objects – Coins and Diamonds  is a challenging reaction skills survival action adventure game for Android. It is all about randomly appearing and evolving objects, some with scores and some with special abilities.
Play the whole Quest for free and without a single ad disturbing your gameplay.
The game features unique gameplay mechanics and physical effects like gravity. The Quest consists of 12 different jobs and there are 4 additional special jobs. Quest highscores are global and there are also local job highscores, so if you don't only want to play it alone, then this game could also be the champion for your next tournament.
HAVE FUN AND GOOD LUCK with playing evolving Objects C&D !