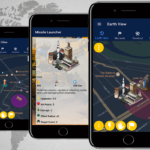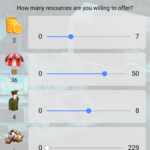 Game tactics include capturing lands to build military bases, collecting construction resources and recruiting armies to establish regional dominance. To defend your territories, initiate alliances with neighbors to fight against foreign threats or build a missile launcher in your backyard to thwart invaders of your hometown. It's vital check in five times in any spot to establish a new base of operations. Once you've collected enough resources you can send your armies to the overseas base in order to advance your influence remotely, even after you've left!
Domination Earth also engages in "item scrapping": any real-world item with a barcode can be transformed into a resource by using your camera (don't worry, you still get to keep your items afterwards!). Books, toys, DVDs – almost anything becomes a source of crafting materials.
A health conscious and adventure provoking platform, it encourages hiking, cycling and other forms of travel and real-world exploration in order to collect resources – you have to physically approach each item wherever it appears in the world to pick it up.
A weather monitoring system has been introduced…which as far as we're aware would be the first GPS-based strategy to utilize real-time weather as part of gameplay.