Billy Saves the World has the spirit of a classic point-and-click adventure game like Monkey Island, even though you never point, and never click. Instead, you'll explore a beautiful 2D open-world. It's sort of a Metroidvania kinda thing, without exactly being a Metroidvania kind of thing.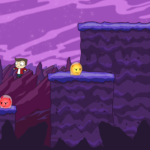 Talk like Telltale through conversations that change events based on what you choose. Changes may be as small as hearing a different joke, or as big as accessing completely different areas than someone else playing the game, thus making multiple play-throughs feel fresh.

Run, slide, and wall-jump your way through dozens of action/platform levels and challenges spread across the alien world if adventuring or puzzle solving isn't your cup of tea. Each level offers multiple routes, hidden secrets, time trials, and optional quests!

BSTW was designed to allow you to craft (buzz word!) your gameplay experience. If you prefer traditional, challenging "levels" — you'll find those. If you prefer to progress by solving puzzles — you'll find that. Maybe you enjoy taking things slower for a more casual explorative experience — we've got you covered.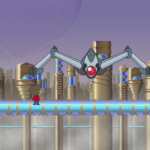 If you think our game looks fun, and would like to play it sooner, then consider joining our Patreon at $1 a month. Every person counts as we approach publishers and big wigs and getting it to more platforms, plus you'll get some bonus perks as well!