Arpago is a retro 3D action RPG currently under development. It lets you create your own character, choose your playstyle, explore an archipelago full of exciting adventures, and test your strength against any foe you meet on islands!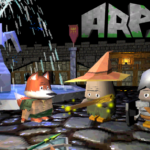 Some of planned features:
a fully explorable world, probably divided into sectors for performance/technical reasons,
at least 5 classes,
lots of weapons, and weapon types: melee (slashing, smashing, thrust, staves), thrown, ranged (bows, crossbows, wands, rods), traps,
lots of gear – helmets, armors, shields, rings, hands, boots,
spell system,
a large bestiary,
different AI behaviour types for different enemies – ex. melee/ranged, aggressive/cautious, precise/careless,
no level-scaling,
splitscreen multiplayer,
haven't decided if online multiplayer will be included, but I'll definitely try,
retro 3D graphics – rendering resolution 640×480, a limited color palette, low-poly models, no texture filtering.